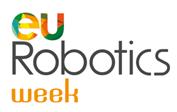 [visualizza on line la comunicazione]
Dear Event organisers,
We are now close to 600 events in 30 countries for #ERW2015 and new events keep coming in every hour! Please keep using the #ERW2015 on all your social media channels now and especially during the week to spread the word about these great robotics events.
And even more good news, we can welcome two new national coordinators in our circle:
Abayomi Ogundipe for Moldova and
Neven Savanovic for Bosnia and Herzegovina
We are also enclosing the official #ERW2015 – press release which you can translate, customize and send to all your press contacts and share via social networks. We, at euRobotics, are looking forward to next week and hope you have good time at your events!
[registra il tuo evento]