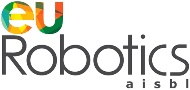 Dear European Robotics Week National Coordinators,
we are less than one week before the start of European Robotics Week 2013. I would like to thank all of you who contributed to continue the success of this event with all your collaboration, enthusiasm and commitment. I am really grateful and impressed with what we have achieved:
294 events in 23 countries!
This would not be possible without your precious collaboration!
I would also like to kindly ask you to make an estimation of the number of participants in each activity, so that we can have some overall statistics on this year's European Robotics Week. I have created one flickr account and one youtube account, so that you are able to show what is happening during the week.
I would like to kindly ask you again to upload videos and photos of the activities you will have in your countries during the European Robotics Week 2013.
I think this can be a good way of showing a glimpse of what is happening during the European Robotics Week to all people that cannot attend to the activities and also helping to raise the awareness of the general public in Robotics.
Below you can find the credentials for accessing both flickr and youtube ERW accounts:
flickr account:
http://www.flickr.com/photos/europeanroboticsweek/
youtube channel:
http://www.youtube.com/user/EuropeanRoboticsWeek
Please include the name of the activity, ERW2013, city and country, as well as the credits for the photos/videos
(e.g. "Robots are exciting" – ERW2013 – Vienna, Austria – Credits: Gregor … )
I really appreciate all your efforts and all the work that you have been developping to ensure this edition of ERW will be a success!
Look forward to receiving your feedback
Kind regards, Pedro
José Pedro Cardeiro
Assistant Project Manager
euRobotics AISBL
European Robotics Association
Diamant Building
Boulevard A. Reyers 80
1030 Brussels, Belgium
Save the dates:
European Robotics Week 2013: 25 Nov. – 1 Dec. 2013
http://www.eu-robotics.net/eurobotics-week/
European Robotics Forum 2014: Rovereto (Italy) 12-14 March 2014
euRobotics aisbl is registered as an international non-profit association according to Belgian law.